Here are some of the recent Mystery titles added to our collection: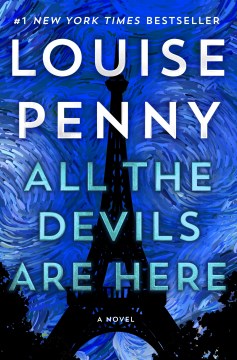 All the devils are here : a novel / Louise Penny
The 16th novel by #1 bestselling author Louise Penny finds Chief Inspector Armand Gamache of the Sûreté du Quebec investigating a sinister plot in the City of Light. On their first night in Paris, the Gamaches gather as a family for a bistro dinner with Armand's godfather, the billionaire Stephen Horowitz. Walking home together after the meal, they watch in horror as Stephen is knocked down and critically injured in what Gamache knows is no accident, but a deliberate attempt on the elderly man's life. When a strange key is found in Stephen's possession it sends Armand, his wife Reine-Marie, and his former second-in-command at the Sûreté, Jean-Guy Beauvoir, from the top of the Tour d'Eiffel, to the bowels of the Paris Archives, from luxury hotels to odd, coded, works of art. It sends them deep into the secrets Armand's godfather has kept for decades. A gruesome discovery in Stephen's Paris apartment makes it clear the secrets are more rancid, the danger far greater and more imminent, than they realized. Soon the whole family is caught up in a web of lies and deceit. In order to find the truth, Gamache will have to decide whether he can trust his friends, his colleagues, his instincts, his own past. His own family.
 London, 1703. In a time when the old approaches to science coexist with the new, one elite community attempts to understand the world by collecting its wonders. Sir 
Barnaby
 Mayne, the most formidable 
of
 these collectors, has devoted his life to filling his 
cabinets
. While the curious-minded vie for invitations to study the rare stones, bones, books, and artifacts he has amassed, some visitors come with a darker purpose. For Cecily Kay, it is a passion for plants that brings her to the Mayne house. The only puzzle she expects to encounter is how to locate the specimens she needs within Sir 
Barnaby's
 crowded 
cabinets
. But when her host is stabbed to death, Cecily finds the confession 
of
 the supposed killer unconvincing. She pays attention to details-years 
of
 practice have taught her that the smallest particulars can distinguish a harmless herb from a deadly one-and in the case 
of
 Sir 
Barnaby's
 murder, there are too many inconsistencies for her to ignore. To discover the truth, Cecily must enter the world 
of
 the collectors, a realm where intellect is distorted by obsession and greed. As her pursuit 
of
 answers brings her closer to a killer, she risks being given a final resting place amid the bones that wait, silent and still, in the 
cabinets of Barnaby
Mayne.
Stone Barrington and his friends are vacationing in Maine when their leisure is suddenly disrupted by extreme weather. To make matters worse, the inclement conditions allow for a menacing adversary to sneak in unnoticed and deliver a chilling message. Soon it becomes clear that the target of the incident is one of Stone's closest companions, and that these enemies have a grander scheme in mind. From the bustling streets of New York City to the sun-drenched shores of Key West, Stone intends to nab the criminals that appear behind him at every step. But his search only leads him further down a trail of peril and corruption, and he'll soon find that at the end of the road is a more dangerous foe than he could have imagined.
 Nils Shapiro accepts what appears to be an easy, lucrative job: find out if Beverly Mayer's grandson is foolishly throwing away his trust fund in Hollywood, especially now, in the wake of his fiancée's tragic death. However, that easy job becomes much more complicated once Nils arrives in Los Angeles, a disorienting place where the sunshine hides dark secrets. Nils quickly suspects that Ebben Mayer's fiancée was murdered, and that Ebben himself may have been the target. As Nils moves into Ebben's inner circle, he discovers that everyone in Ebben's professional life-his agent, manager, a screenwriter, a producer-seem to have dubious motives at best. With Nil's friend Jameson White, who has come to Los Angeles to deal with demons of his own, acting as Ebben's bodyguard, Nils sets out to find a killer before it's too late.
She thought she was finding her birth mother. Now she's searching for a killer. Dr. Margo Dunlop is at a crossroads. Her adoptive mom just passed away, and Margo misses her so much she can't begin to empty the house-or, it seems, get her brother on the phone. Not to mention she's newly single, secretly pregnant, and worried about her best friend's dangerous relationship. In an effort to cheer herself up she goes in search of her birth mother. Instead she finds Nikki, her mother's sister. Aunt Nikki isn't what Margo expects, and she brings upsetting news: Margo's mother is 
dead
. Worse, she was murdered years ago, and her killer is still at large-and sending Nikki threatening letters. Margo is torn. Should she stay out of this mess, or try to find justice? But then Margo receives a letter, too. Someone out there has been waiting and watching, and in Margo sees the spitting image of her mother.
1946, London. The eagerly anticipated new detective novel from Albert Campion's godsibling, bestselling author Evadne Childe, is proving to be another runaway success. Unfortunately, it has also caught the attention of Superintendent Stanislaus Oates for reasons that go beyond its superior plotting. The crime at the heart of The Bottle Party Murder bears a number of striking similarities to a very real, recent and unsolved murder at the Grafton Club in Soho. Evadne wrote the book before the murder occurred, yet predicts it remarkably accurately – is it just a weird coincidence, is Evadne getting her information from 'the other side', or is something more sinister afoot? The repercussions of this extraordinary and complex case will reach out over the next fifteen years, drawing in three of 
Mr
 Campion's favourite policemen – Oates, Yeo and Luke – before finally coming to its violent conclusion in 1962.
On his way to visit an inmate at 
a
 Texas prison who has promised him information, Detective Dave Robicheaux stops off at an amusement park to watch 
a
 teenaged Elvis-like rock-and-roller from his hometown of New Iberia named Johnny Shondell playing to 
a
 crowd of swooming young girls. One of them is another New Iberia teenager named Isolde Balangie. The Shondell and Balangie families are longtime rivals in the New Iberia criminal underworld. Yet Johnny and Isolde are in love. And like Romeo and Juliet, Johnny and Isolde are being kept apart by their families. In fact, Isolde tells Robicheaux, her parents have given her to the Shondell patriarch to be used as 
a
 sex slave. Seeking to uncover why, Robicheaux gets too close to both Isolde's mother and her father's mistress. As retribution, the elder Balangie orders 
a
 mysterious assassin to go after Robicheaux and his longtime partner, Clete Purcell. Yet this is unlike any hitman Robicheaux has ever faced: he has the ability induce hallucinations and might be 
a
 time-traveling reptilian. 
A Private Cathedral
 is both vintage James Lee Burke and one of his most inventive works to date–mixing romance, violence, mythology and science-fiction to produce 
a
thrilling story about the all-consuming, all-conquering power of love.
Investigating the murder of a well-liked business manager 
in
1816 London, FBI agent Kendra Donovan follows leads to one of England's largest breweries before uncovering secrets close to home.
When a battered young woman is left for dead, a prisoner in the state penitentiary points out that the attack closely resembles the one for which he was convicted—and which he insists he didn't commit. Georgia Bureau of Investigation agent Will Trent enlists the help of his girlfriend, medical examiner Sara Linton, to investigate the new case in light of the older one.
When the music stopped, it was murder. Back in London's swinging '60s, Steve Cook was teen idol number one. But that changed when a sixteen-year-old fan was found dead in his hotel room bed. Steve's career came to a crashing halt after he was dumped by his record company and arrested. Now, in 1978 San Francisco, Steve works construction, still dreaming of a comeback. Until his eleven-year-old daughter is kidnapped. Steve turns to one person for help: Colleen Hayes. She was quite a fan herself, back in the day. And she knows what it's like to be on the wrong side of the law and live in judgement for the rest of your life. It doesn't take Colleen long to realize something fishy is going on with the kidnapping of Melanie Cook. What transpires is a harrowing journey through a music industry rife with corruption and crime. Colleen's search takes her through San Francisco's underbelly and all the way to '70s London, where she discovers a thread leading back to the death of a forgotten fan in Steve's hotel room.
View in Catalog